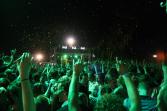 The Batavierenparty
The Batavierenparty has also acquired a special place in the hearts of Dutch students. Since 1977, a big party is organized after the Batavierenrace. The last few years it even claimed the title 'Europe's biggest student party'. It is a great way to relax after more than a day of intensive sports.
Online Batavierenparty 2021
On Saturday night, 24 April 2021, from 20:30 to 02:00, the 49th edition of the Online Batavierenfeest will take place in your living room. Enjoy the safest student party of the Benelux. Party along and find out who won the Batavierenrace this year! Own consumptions allowed.

You can find the stream here!