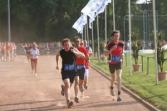 The Team Captain
The team captain is an important person within the organisation of a team. This person has to arrange the registration, transportation, and of course the team itself. The team captain also receives all the information from the Organising Committee. Below you can find more information about the registration and additional tickets.
Registrations
Registration happens completely online and will be possible during the official registration period from the 6th of November till the 29th of November 2019. When you register your team during this period, participation is assured if you're within the first 10 international teams that subscribe.
Subscription
Registration for the 48th Batavierenrace will be possible in November 2019. To register a team, you have to go to E-Bata and create an account. A password will be send to your e-mailadres, which gives you the possibility to login to E-Bata. When logged in, follow the procedure for 'International teams'. When your subscription is complete, a confirmation mail will be send to your e-mail adres. Note that your team does not have to be complete when signing up!

The important dates for the registration will later on be mentioned below.



Additional tickets
All registered teams will receive a letter with detailed information on how to do this. It is highly recommended to buy these additional tickets:
Sleeping tickets

Dining tickets

Breakfast tickets

Bustickets

Bicycle rent

The only thing you have to do yourself is renting a mini-van to transport your team from relay to relay point. The Organising Committee can give you tips on how to do this. More information about transport can be found here.
International Flyer
Below you can download the international flyer of the 46th Batavierenrace.

International Flyer (1,76 MB)
Registration regulations 46th Batavierenrace
Below you can download the registration regulations of the 46th Batavierenrace

Registration regulations 46th Batavierenrace (165 kB)
Competition Rules 46th Batavierenrace
Under here, you can find the Competition Rules for the 46th Batavierenrace

Competition Rules 46th Batavierenrace (276 kB)