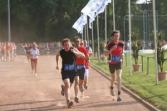 The Team Captain
The team captain is an important person within the organisation of a team. This person has to arrange the registration, transportation, and of course the team itself. The team captain also receives all the information from the Organising Committee. Below you can find more information about the registration and additional tickets.
Registrations
Registration happens completely online and will be possible during the official registration period from November 10th until November 24th 2016. When you register your team during this period, registration is assured if you're within the first 10 international teams who subscribe. After this date, online registration will be possible until February 5th 2017 if there are places available.
Additional tickets
All registered teams will receive a letter with detailed information on how to do this. It is highly recommended to buy these additional tickets:
Sleeping tickets

Dining tickets

Breakfast tickets

Bustickets

Bicycle rent

The only thing you have to do yourself is renting a mini-van to transport your team from relay to relay point. The Organising Committee can give you tips on how to do this. More information about transport can be found here.
International Flyer
Below you can download the international flyer of the 44th Batavierenrace.

International Flyer Outside (607 kB)

International Flyer Inside (784 kB)
Team captain documents
When important documents like registration rules, contest rules and team captain letters are ready to inform international participants about the 45th Batavierenrace, they will appear in the section below.

Registration rules 45th Batavierenrace (1,16 MB)

Competition Rules 44rd Batavierenrace (1,17 MB)
Participants booklet
If you want to read the participants booklet click here.
Team captain letters

Team captain letter 1 - 45th Batavierenrace (75,5 kB)