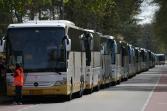 From relay point to relay point
To transport your team from relay point to relay point the team captain should rent a minibus for 9 persons. During the race, the participants who are not running or cycling at that particular moment, drive with this minibus from relay point to relay point. You can find the car route in the participants booklet. Please note that every team has the responsibility to rent a minibus for themselves, the organisation of the Batavierenrace will not take care of this. We can help you however.
To the restarts and finish (bus plan)
During the race your team uses one minibus to transport the runners from relay point to relay point. To make sure that the runners from the next shift are on time at the next restart, you can use the bus plan. This is a transportation plan, in which buses will bring participants to the restart points Ulft and Barchem to start their race, and runners who finished their shift to the finish in Enschede. To use this bus plan, the team captain needs to order special bus tickets.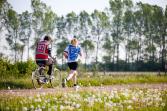 Bike
The runner will be accompanied by a cyclist from your team during his or her session. Therefore you need to rent a bike. The Organising Committee can arrange this for you.