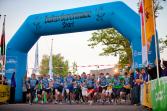 About the Batavierenrace
On the 28nd of April 2023 at 22.30 pm, the 51st edition of the Batavierenrace will take place. The Batavierenrace is a relay race over 175 km from Nijmegen to Enschede, divided into 25 stages (16 men's stages and 9 women's stages) varying from 3.5 km to 10.7 km. Over 350 teams participate in the race, which means more than 8,000 students. This has earned us a place in the Guinness Book of Records. The Batavierenrace is a mixture of a competitive sport-event as well as a big social event. At 22.30 pm the race starts and the first runners will dive into the night for their heroic battle against the elements and the temptations of a warm bed. This is the beginning of 18 hours of sportsmanship. Afterwards, the biggest student party in Europe takes place, with over 12,000 visitors! In brief: a great opportunity to be out with your team for a few days and be part of a fantastic event!
After a spectacular opening the race starts at midnight near the Radboud Sports Centre of Nijmegen. A unique feature of the Batavierenrace is that part of the race takes place during the night. To avoid overtaxing the route and to have a good registration of stage times, the start takes place in seven different start groups. There are also three restarts, to make sure the whole field of runners does not stretch out too far. These restarts take place in Ulft, Barchem, and Enschede (Old Market). The participants of the race wear a runner's vest which contains a chip that registers the stage times. Every runner is accompanied by a teammate by bike for navigation, safety and moral support. The route of the Batavierenrace leads the runners through crowded relay points as well as lonely windy country roads in the middle of nowhere.
Batavierenrace Fesitval
The finish of the Batavierenrace around 6 p.m. is followed annually by the largest student party in the Benelux on the campus of the University of Twente in Enschede. An estimated 13,000 students go wild at various locations on the campus! The organization of the party is in the hands of the Event Office of the University of Twente.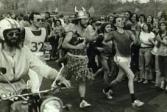 History
The Batavierenrace has its roots in Sweden. A couple of students from the Netherlands participated in the SOLA relay race in Sweden and decided to organize a similar event in the Netherlands. Inspired by the tribe of the Batavi, who sailed down the Rhine in 50 B.C., they named their race the Batavierenrace. In 1973 the first edition was held, which led from Nijmegen to Rotterdam.
Because of infrastructural problems they decided to change the route from 'Nijmegen - Rotterdam' to 'Nijmegen-Enschede' in 1974, but the race maintained its name.
Since 1974, the route has barely changed. What did change is the number of participants: from 575 in 1973 to over 8500 in 2014.