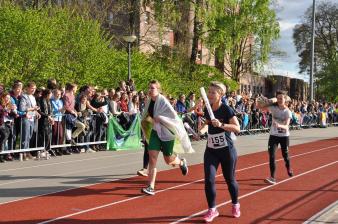 Novel-t as participating business team
Business Team
It is possible as a company to join the Batavierenrace trough a separate Businesscompetition where companies battle each other. This offers a sportive and unique teambuilding activity for your employees. It is not only a unforgettable experience for the runners but also an opportunity for your company to stand out for students. By running the whole race your company gets noticed by all participants. In the last part it is also possible to dress up in promotional clothing and to be welcomed at the finish by at least 7.000 spectators.

After the race your whole team can join the business diner and come in touch with other companies. Beside that your company will get a logo on our website.

For an entire business team you need 25 participants who each run one part of the race. The race starts Friday 28 April at 22:30 pm in Nijmegen and the finish is around 18:00 pm on Saturday 29 April in Enschede. Is it for your company impossible to run the whole race than the opportunity exists to only run the afternoon program with 8 persons.

By participation, the bus rides between the start, restart and finish will be arranged for free.

Are you interested in setting up a business team? Please contact one of our Commissioners External Affairs for more information.

Business teams 51st Batavierenrace
- Topicus Gifkikkers
- Demcon
- Transfer-Solutions
- Designlab UTwente
- NovelT