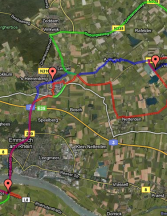 The route of the Batavierenrace
The route of the Batavierenrace goes over 175 kilometers and contains 25 stages, of which 16 are men's and 9 are women's stages. There are three shifts, a night- (stage 1-9), morning- (stage 10-17) and dayshift (stage 18-25). The night-shift starts with an official start, in Nijmegen at 22:30 pm at the 'Grote Markt'. The morning-shift starts at Ulft at 06.30 am and the dayshift starts at Barchem at 11.00 am. The final stage is a combined men's and women's stage, which starts at the 'G.J. Van Heekpark' in Enschede, and finishes at the cinder track on the campus of the University of Twente.
Looking for a team?
Would you like to participate and you don't have a team yet? Visit our Facebook page (Dutch) 'Loper zoekt Ploeg / Ploeg zoekt loper - Batavierenrace' and get in touch with others who also want to participate in the 51st Bata and are still looking for runners or other associations to collaborate with.
Google Maps
Curious about the route? All preliminary running routes and car routes of the 51st Batavierenrace are shown here in Google Maps.
PDF Route Booklet
Route Booklet 51st Batavierenrace (1,84 MB)
Errata 51st Batavierenrace
Important! Write the errata in your route booklet, so the right route will be followed.
Errata 51st Batavierenrace (120 kB)
Competition regulations
The document below contains the Regulations for both the General Ranking and the University Ranking.