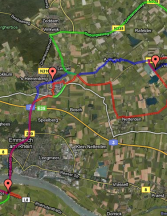 Google Maps
The preliminary route of the 50th Batavierenrace can be found here.
Preliminary stage division
You can download the preliminary stage division for the 50th Batavierenrace below.

If a man runs on a women's stage, the team will receive a penalty time for that stage. The duration will then also be multiplied by a factor of 1.4.
Competition regulations
The document below contains the Regulations for both the General Ranking and the University Ranking.

Preliminary competition rules 50th Batavierenrace (173 kB)