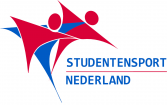 Student Sport Netherlands
SSN is a national organisation that represents the interests of the sporting student, both in top and in recreational sport and for both the bound and the unbound athlete. In addition, SSN organises 50 student championships per year!

It is our mission to promote student sport in the Netherlands in all these facets. We don't do this alone. Together with and on behalf of a strong and locally involved constituency of sports councils and sports centers and for and by students, we represent the interests of the sports student. We organise and/or support national and international student sports events at different levels. As a platform for meeting, we offer our supporters the opportunity to share knowledge and to pool this knowledge in our knowledge center. Together we are strong for the sports student!

SSN sees in the sports student an important and valuable group that needs representation and support. In many cases, students organise sports in student sports clubs, but increasingly also individually, disorganised or organised differently. These student athletes are important because of the positive effects that sport can offer during the study period.
Young people who are studying tend to quit sports. Student sports with good facilities and support can ensure that this outflow is prevented and that these students retain an active lifestyle within the student sports clubs and sports centers.
SSN wants to go there together with its constituents of local sport councils and sports centers and explicitly seeks the connection with national and local (sports) organisations, governments and associations to optimally facilitate the more than 100.000 student sportsmen and grow to a total of 150.000 student sportsmen.

Core tasks
Together with its supporters, SSN has three core tasks, which can also be seen in the branches within the organisation. These are: Advocacy, Events and Top sport.

1. Advocacy
Within this branch of the organisation, promoting the interests of the sporting student is central. In this role, SSN firstly provides a piece of integration and knowledge transfer between OSSOs, Student Sports Associations (SSBs) and Organising Committees (OCs). For these parties, SSN also provides a section on Frameworks.
In addition, SSN maintains contact with external parties. At the national level, these are the ISO and the LSVB, which are permanent interlocutors for national politics. On an international level, SSN maintains contacts with the EUSA and FISU, the European and World Student Sport Organisations.

2. Events
This second organisation part consists of the concrete organisation of sports events within the student sports world. The trademark of SSN is the Dutch Student Championships (NSKs) that are organised in more than 50 branches of sport. There are separate committees for the organisation of all these NSKs. The task of SSN is to supervise the quality, level and external communication of the NSKs.
The Great Dutch Student Championship is held once a year. This is a cluster of a number of well-practiced sports in the Dutch Student World. This multi-day event is therefore one of the biggest in Dutch student sports.

3. SSN Top sport
SSN Top sport is mainly concerned with the practical activities concerning the broadcast of Dutch participants to the WUCs and Universiades.