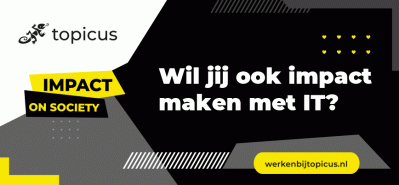 Topicus: Impact on Society
Who wouldn't want that; to mean something to society? Impact on society. Topicus has been doing that for years with tech solutions. We think this is the most normal thing in the world. Every day millions of people use our platforms, including people in your social environment. Tech solutions that really benefit the healthcare, education, financial and social sectors. We do this all from our 'hometown' Deventer, but also from Utrecht, Dodewaard, Groningen, 's Hertogenbosch, Leiden, Wageningen, Gouda and even in Vietnam and Romania. And our ambitions reach even further. We actively explore markets within and outside Europe. With over 1,200 Topicans, we have the innovation drive and clout to achieve our growth ambitions.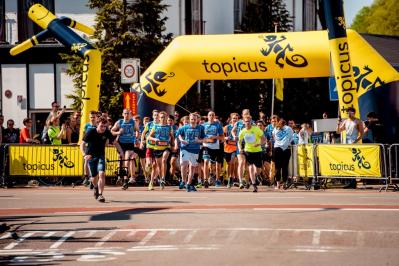 Main sponsor Batavierenrace
For years we have been a loyal partner of the Batavierenrace, but this 51st edition we can proudly call ourselves main sponsor! Both the connection with the universities and the students is very valuable to us. In contrast to previous years you will not find us in Barchem this year, but together with the Organizing Committee we will make sure you will have an unforgettable final sprint experience!

The battle of the Universities: the "Topicus University Competition" remains in place and has become a real top competition that lives among all Dutch students! The ultimate goal is to turn the Topicus University Competition into an international university competition. We wish all participating teams the best of luck!

As in previous years, our own Topicans will also compete again this year during the business competition, a tradition within Topicus since 2014.
Topicus and Batavierenrace join forces for Beat Batten
Together with the Batavierenrace, we are making an impact by dedicating ourselves to Beat Batten. Batten disease is a serious metabolic disease. Beat Batten raises money for research into therapy to cure or treat childhood dementia. In addition, the foundation is committed to educating doctors, researchers and family members.

Because little is known about metabolic diseases and every child deserves a good future, we are committed to Beat Batten together with the Batavierenrace for the next 3 years.

For more information about donating and this action, please visit the Beat Batten page .
Want to know more about Topicus?
Do you also want to make an impact on society? Want to ask us something? Need advice? Need to brainstorm? It's always possible! Call, email or just come and visit us in Deventer, or at one of our other offices.

Curious about working or graduating at Topicus? Every year, we assist about 100 WO and HBO students with their internship or graduation project. You will have the opportunity to work immediately with experienced team members on one of our challenging projects. Go to www.werkenbijtopicus.nl for all stories and the current overview of our (student) vacancies.