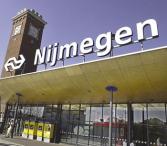 Travel advice to Nijmegen
Information about how to get in Nijmegen, the starting point of the race, can be found on this page. Below you can find the adress and a map of the University Sports Centre (Gymnasion).
By car
Participants coming from Scandinavia, Germany and Switzerland are advised to use the German motorways A3/E35 (Oberhausen-Arnhem) and A57/E31 (Krefelt-Nijmegen) respectively.

From the south (Belgium) the Paris-Brussels-Antwerpen-Breda motorway leads to Nijmegen (via Tilburg and 's-Hertogenbosch)

Coming from Amsterdam/Utrecht following the A2, take the A50 direction Nijmegen. At the intersection of the A50 and the A15, follow signs 's-Hertogenbosch-Nijmegen (A50), then take the A73 to Nijmegen.

Coming from Rotterdam, follow the A15 until the Nijmegen (A50) exit, then take the A73 to Nijmegen.
The Radboud University Nijmegen is signposted as "Universiteit" on all major routes into Nijmegen. After arriving at the University, follow the signs "Gymnasion".
By train or bus
Make sure you take the train to Nijmegen (central station) from which you can take the train to Nijmegen Heyendaal. From this station it's only a short walk to the Radboud Sports Centre (RSC). Railway information is given on yellow timetables located in station halls and on railway platforms, as well as on the internet (www.ns.nl).

You may want to travel by bus, the options are: line 10 -the "Heyendaal Shuttle"-, line 1 direction "Molenhoek", and line 11 direction "Brakkenstein". All of these buses stop at the University (at walking distance from the Gymnasion/RSC). However, these lines are in service only until around 7 p.m., so after this hour you should take the train.

Note: If you come by train it is necessary to rent a minibus in the Netherlands, because you require transportation between the relay points. For more information see the Transport page or contact the Organising Committee.
Address Radboud Sports Centre (RSC/Gymnasion)
Radboud Sports Centre
Heyendaalseweg 141
6525 AJ Nijmegen
The Netherlands

Tel: +31(0)243615876
nijmegen@batavierenrace.nl